So, I bought a set of
24 Derwent Inktense Pencils
the other week and hadn't had a chance to use them yet until a couple of days ago. I actually own another set of theirs, also Inktense but the colours are all dark earthy tones while this set was filled with beautiful vibrant colours (oh the joy!). I've always loved the other ones (the earthy ones) before, but used them more to shade and as background colours, so I never really gave them that much attention. Now, these new ones are meant for the spotlight baby! Let me tell you about them!
Creamy, vibrant, lush and pretty, are just a few words I'd use to sum up the effect of the
Inktense Derwents!
I was surprised by how truly 'inky' they became once I added water to my shaded bits with them. And the colour is crazy vibrant! Other watercolour pencils I've used in the past by Caran D'ache and Staedler are good too (particularly the kids' ones by Staedler -> also vibrant and creamy), but I will say that the Derwents surpass them both in quality and vibrancy. I just kept wanting to add more and more (which might be the *only* downside to them, ha ha, as wanting to add more and more can mess with your design etc).
I've also come to wonder, if they have called them "Inktense" implying a merging of the words Ink and Intense? Ie: the watercolour crayons when diluted come across as ink (truly!) and the colour is super intense (truly)! Great and appropriate name for these awesome pencils! Maybe I'm a bit 'doh' to grasp the play on words only now, but hey, I do have fog brain due to pregnancy, so do forgive a tired and worn out Tam! ;)
In any case. I highly recommend these pencils! I've loved working with them and will use them a lot more now. They will also feature prominently in
my next course Life Book
!
You can buy your own Derwent Inktense Pencils by visiting www.dickblick.com! :)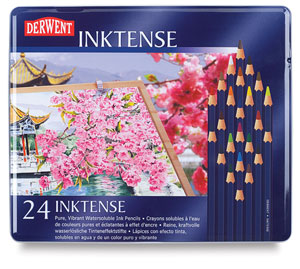 ---
PS. Don't forget to keep an eye out for Life Book! - Registration opens on 3rd October! :D